SALES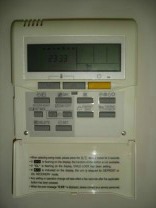 If you require a Heat Pump/Air Conditioning or Ventilation Unit we can contact manufacturers to find a system to match your needs and budget.
We understand how difficult it can be making a decision when there are so many options of brands, models and sizes.
Allow us to find you the best unit and price and take the stress away and give you peace of mind.
How it works...
We will do a step-by-step walk through of the premises with you to establish, or work with architectural plans to anticipate, your air conditioning needs. We will size the correct system for the space. Having this conversation between the client and the electrician onsite ensures there is full understanding of the client's needs and the work that will be done. We enjoy building a rapport with our customers and getting to know them personally too.
We can make the buying of a unit easy and affordable. We work closely with Fujitzu but are happy to contact other manufacturers on your behalf to get the best deal. We are often informed of monthly deals or units on sale that could help you get the bargain you want.
The first step is to contact us for an obligation free chat. We'll run through your requirements and provide a quote on costings.
Need a heat pump?

If you're wanting advice, we'd love to hear from you. For an obligation free chat, simply giveaaron a call on 0212755808 or fill out the contact us form and we'll be in touch fast.