installation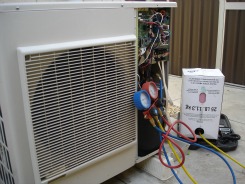 If you're looking for design ideas or planning an installation we provide a step-by-step walk through of your premises to discuss what system would be the most efficient and cost-effective for you.
We can help you solve your heating and cooling issues. We have many years of experience installing air-conditioning and ventilation units. We understand the needs for a small family right up to a large industrial space. We have worked on many residential and commercial properties around Christchurch.
How it works...
We will do a walk through of the property with you to discuss the best solutions to suit your needs and budget. We often work with architectural plans in anticipation of a build too. We will then provide you with a quote for the installation of the unit on your premises.
installing a heat pump?

If you would like us to discuss the installation of a unit, we'd love to hear from you. For an obligation free chat, simply give Aaron a call on 0212755808 or fill out the contact us form and we'll be in touch fast.